CEL Whey Protein Review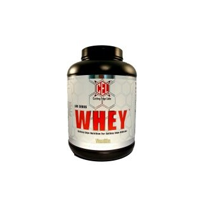 Created by Cutting Edge Laboratories, CEL Whey Protein is advertised as an incredibly effective way to increase your protein intake so you can get the muscle-building results you've always wanted for an affordable price. Manufacturers say that CEL Whey Protein will finally give you a natural source of BCAA and 24g of high quality protein all in an easy-to mix formula that will dissolve fast in your favorite beverage.
Supposedly this superior tasting whey protein gives you the best value with just 45 cents a serving, but the question is, does CEL Whey Protein actually work?
The Good
CEL Whey Protein has 24g of protein, BCAA's, and more than that, amino acids that can feed the muscles and effectively enhance physical performance while giving muscles the amino acids and the protein that they need for basic functioning.
CEL Whey Protein is also low in carbs and sugars, which means you don't have to worry about packing on pounds of fat while you're trying to bulk up.
The Bad
CEL Whey Protein may have the quantity needed, but the quality of their protein is extremely low, which is common with many bigger companies (unfortunately). Manufacturers tend to rely on their name above anything else in order to sell their product rather than letting the product speak for itself.
Moreover, while some of the amounts may seem large with the amino acids, scientifically speaking, they are actually small as compared to what would actually be needed for the results that manufacturers describe.
Additionally, there are very few consumer reviews associated with this product – good or bad. Without feedback from athletes and weekend warriors like yourself, it's hard to tell how effective this formula really is. It could cause negative side effects or it could taste terrible and chalky – and you'd never be able to anticipate these problems beforehand.
If you've used Cel Whey Protein, then your insight could provide valuable information about whether or not this protein powder actually works. If you could leave a comment below about what you think about this protein powder, then you could influence someone into buying (or not buying) this formula.
The Flavor
Cel Whey Protein is Available in both Chocolate and Vanilla, which is fairly standard among protein powders.
The Price
Cel Whey Protein is becoming increasingly difficult to purchase online, as it is not a popular product among bodybuilders. If you're lucky, you can find a 5lb tub of this protein selling for about $52.10, but many of the sites that sell this protein supplement are unreliable, so you'll want to exercise caution lest you find yourself stuck with a tainted product and no money-back guarantee to cushion your investment.
The Skinny
Considering the fact that it is hard to find and difficult to purchase, I would not recommend using CEL Whey Protein. Although it does contain a bit of protein that may be able to give you some bodybuilding results, it is doubtful that this product will come through in the way that you had originally hoped.
I would definitely recommend checking into another option that will give you exactly what you are looking for, such as any of the top products listed on this site.