BPI Whey HD Review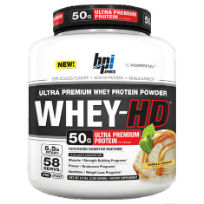 BPI announced a couple days ago via a photo advertisement the release of Whey HD, an ultra-premium whey protein powder.
Whey is considered a fast-absorbing protein and is shown to improve athletic performance by offering quick supplies of amino acids and nutrients to repair damaged muscles after exercise.
The product image shows Whey HD will contain 50 g protein per 2 servings.
Needless to say, athletes and bodybuilders are excitedly anticipating its estimated fall arrival.
What Flavors Can We Expect?
BPI Whey HD will come in 4 different flavors: Vanilla Caramel, Chocolate Cookie, Peanut Butter Cookie, and Strawberry Chocolate.
Also, WHey HD will come in two size containers, a 2 lb. and a 5 lb.
Will BPI Whey HD Be Expensive?
We've already seen a price on some sites for Whey HD where it's listed as retailing for more than $70, even though the product has not yet been released.
What Do We Know About the Company?
With headquarters in South Florida, BPI Sports is a supplement manufacturer with numerous products under its belt, such as testosterone boosters, fat burners, and pre- and post-workout supplements.
Sister companies of BPI include IMAGE Sports, Brain Pharma, Pro Nutra, and Jay Culter Elite Series.
BPI Products are received well by users, and the company was even given the "Rising Star of the Year" award followed by the "Brand of The Year" award by GNC.
The company received a B Rating from the Better Business Bureau. The rating is based on 2 complaints received in the past 3 years, stemming from problems with the product/service. These complaints have since been closed in the past 12 months.
Keep checking back for more news on BPI Whey HD. We will update this review with new information as soon as it is available.