BodyTech Pro Pudding Review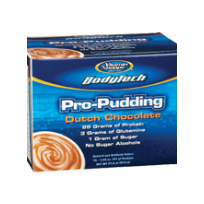 These days, almost anything is possible with technology, including the fact that you can turn pudding into a healthy food option.
That's right, according to the company BodyTech, their product known as Pro Pudding, acts as a wonderful supplement for those trying to increase their protein intake in order to maintain an active and healthy lifestyle.
On top of that, BodyTech also claims that this product can reduce caloric consumption and help users to lose weight.
In this review, we'll take a look at whether or not these claims are valid and let you know if Pro Pudding is a hoax or truly a healthy option to consider.
How To Use It
Pro Pudding comes in a dry-powder form that can simply be mixed with water like your traditional protein supplement. But rather than creating a creamy shake, you'll get pudding that can be eaten!
Each box of Pro Pudding comes with 15 separate packets that eliminates the need to measure the powder.
What Its Made Of
As we noted above, Pro Pudding is designed to act as a protein supplement and a weight loss helpmeet on the side. In terms of its ability to increase a user's protein intake, each serving of Pro Pudding contains 25 grams of protein. In these 25 grams, you'll find casein, whey and egg protein.
While whey and egg protein are known for their ability to build muscle, casein protein is actually a form of protein that absorbs very slowly. As such, casein partially acts as an appetite suppressant that can help you to feel fuller for a longer period of time.
That being said, Pro Pudding can be used to eliminate cravings and to decrease the consumption of calories. Further, this product also contains a low count of calories, fat and carbs.
While this may not be good for the average athlete or bodybuilder, individuals who tend to gain weight easier may like this perk that Pro Pudding offers.
How It Tastes
Previous users of Pro Pudding have remarked that both its vanilla and chocolate flavors taste quite artificial. If you don't enjoy the taste of Pro Pudding the first-time around, try adding in cinnamon, mint or even peanut butter to satisfy your taste buds.
Both the vanilla and chocolate flavors can be purchased online within the reasonable price range of $24-$37 depending on which site you decide to make your purchase on.
Don't Go Overboard
Although their are health perks to eating Pro Pudding, especially when you substitute it for other types of desserts, its nutritional value is still only adequate at best. Do not make Pro Pudding a staple part of your diet and certainly do not substitute it for regular meals.
This product is the most effective when used in moderation and as a complement to other wholesome and nutritious foods.
Conclusions
In ending, we found no evidence that would refute the claims made by BodyTech in accordance with its creation, Pro Pudding.
That being said, we do recommend the use of Pro Pudding if you're looking for help in increasing your protein intake or losing weight. Just remember not to rely solely on this product if you'd like to attain your health goals.