Body Fortress Whey Protein Review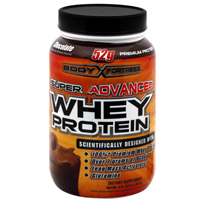 Like any whey protein powder should, Body Fortress Whey Protein delivers nutrients to your muscles, which should boost muscle mass and help you see impressive results at the gym.
Body Fortress Whey Protein has been ultra-filtered to provide you with fast-absorbing whey protein, which allows a higher concentration of protein to reach your muscles. This should help you recover faster from intense workouts.
There's no question that Body Fortress Whey Protein has the potential to be a great product, but how does it compare to Myotein?
The Formula
Body Fortress Whey Protein's formula is actually split up into two blends: Super Whey Protein Blend and Super Recovery Blend.
The Super Whey Protein Blend is made from whey protein concentrate and whey protein isolate. These fast-absorbing proteins are readily digested by the body and they are proven to stimulate muscle growth and speed up recovery. You can find both these high-quality proteins in Myotein, plus 4 more.
The Super Recovery Blend has creatine monohydrate, taurine, l-glutamine, leucine, isoleucine, and valine. Creatine increases ATP production, which provides your muscle with more usable energy; allowing them to grow faster and have more endurance. The other four ingredients are powerful amino acids that improve workout performance and preserve muscle mass, to prevent breakdown.
The Specifications
Each 38 gram serving (one scoop) of Body Fortress Whey Protein has…
• 140 calories (Myotein has 146 and Zero Carb Isopure has 200)
• 26 grams of protein (Myotein has 26 and Isopure has 50)
• 2 grams of fat (Myotein and Isopure have 1)
• 8 grams of carbs (Myotein has 7 and some flavors of Isopure have 0)
• 2 grams of sugar (Myotein has 3 and Isopure has 0)
Body Fortress Whey Protein comes in five flavors: chocolate, chocolate peanut butter, cookies 'n' cream, strawberry, and vanilla. Myotein only comes in milk chocolate, which users seem to love, and Isopure has more than 12 low or no-carb flavors.
Is Body Fortress Whey Protein Safe?
Because Body Fortress Whey Protein is made from only all-natural ingredients and contains a whey protein concentrate, it should be safe. However, there is a chance of mild side effects.
Body Fortress Whey Protein includes a large dose of protein. Because your body may not be used to such a large dose, you may experience some minor side effects; including more frequent bowel movements and stomach upset. Slowly increasing your dose up to the recommended serving size should limit the side effects.
What's the Best Way to Use It
Body Fortress Whey Protein can be added to water or milk and users say it mixes well. If you're trying to lose weight, use skim milk or water. Because of the types of protein it uses, Body Fortress Whey Protein works best when taken right after a workout. Serious athletes or body builders should take 1-2 scoops; but if you're using Body Fortress Whey Protein for other reasons–such as a meal replacement–1 scoop should be enough.
What's the Cost?
You can get 2 lbs. of Body Fortress Whey Protein for about $15 to $22. This is a fraction of the cost you'd have to pay for some protein powders, and the reason is quality. For example, Myotein (2.55 lbs.) costs around $40-$50 because it has the highest quality proteins on the market. Body Fortress Whey Protein doesn't have this quality, so it costs less.
Overall Impression
Body Fortress Whey Protein is a good option for people who want an affordable protein powder. It has a good formula and the potential to produce results. I do have a couple concerns though. First, there are other products with higher quality protein and more types of protein; for instance, Myotein. Second, Body Fortress Whey Protein is not pure protein. It has creatine; which many users would prefer to see left out.
Overall, I think Body Fortress Whey Protein is a good product, but it's not the best. If you're looking for pure, high-quality protein and optimal results, I suggest that you look at Myotein — the #1 rated protein powder.
Please share any comments you have about Body Fortress Whey Protein. I would love to hear your thoughts and recommendations.