Big 100 Colossal Bars Review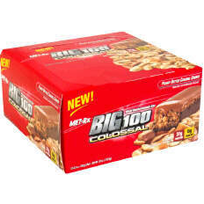 Big 100 Colossal Bars are designed to provide consumers with a protein supplementing option besides protein.
Sometimes a grainy shake can get old and boring. Big 100 Colossal Bars hope to spice up protein supplementing by offering 32 grams of protein per in savory and tasty snack. Big 100 Colossal Bars have been developed so that you can use them as a meal replacements too.
But do these bars really have the ingredients to make them effective meal replacements or protein supplement options? Let's find out.
About Big 100 Colossal Bars
As we mentioned above, Big 100 Colossal Bars contain 32 grams of protein per serving. That is plenty to be effective for promoting muscle growth and tissue repair. You won't find too many protein powders that offer that much protein per serving.
Consumers like the fact that Big 100 Colossal Bars are easy to take with you on-the-go, and they make a tasty treat after an intense workout.
Product Price
But even with all that protein, Big 100 Colossal Bars are still a little pricey. You can get more than enough protein with supplements that only cost $1.50 per serving as opposed to Big 100 Colossal Bars' $2.00 per serving. Many consumers feel that the amount of protein does not justify the expensive price, and if you're looking for a more cost efficient source of protein, Big 100 Colossal Bars is not the option for you.
Is it A Good Meal Replacement?
Big 100 Colossal Bars are not the best options for meal replacements either. Every serving is about 420 calories. That's 200 calories more than a typical meal replacement shake. That means you have to watch your calories even more on the meals you're not replacing. Besides that, Big 100 Colossal Bars also contains high fat content to other meals replacements. In all, it's not as healthy as it should be.
Flavor
Big 100 Colossal Bars are available in multiple flavors, including the following: Crispy Apple Pie, Peanut Butter Caramel Crunch, Peanut Butter Pretzel, Super Cookie Crunch. These bars, though high in calories and low in nutrition, are definitely tasty and consumers love the fun flavors. The bars are "heavy, filling, and tastes like cookie dough" which is always a nice plus considering the fact that many protein supplements are gritty, chalky, and difficult to mix with water or milk.
Unfortunately, the heavy flavor may make Big 100 Colossal Bars difficult to digest, and with so much sugar in the formula, you'll be packing on more pounds of fat than actual muscle.
Potential Side Effects
Unlike many protein supplements, Big 100 Colossal Bars shouldn't cause the typical side effects such as bloating, cramping, and stomach upset. A few reported that it was difficult to digest, but for the most part, it should be a fairly safe supplement to use alongside most any bodybuilding regimen.
Conclusion
After assessing Big 100 Colossal Bars, we have to recommend trying something else. It doesn't provide enough bang for your buck as protein supplement and it is too hearty to serve as a sensible meal replacement. You'd be better off looking for a more calorie-friendly formula.