Balance Bar Review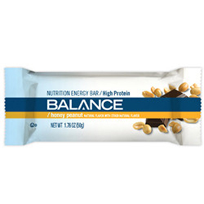 Balance Bars are advertised as well-balanced nutritional snacks that are not only delicious but supposedly provide you with the ultimate way to get the vitamins, minerals, and other ingredients you need to stay healthy while dieting.
The Balance Bar company has been around for years, offering energy supplements based on the 40-30-30 dietary principle: 40% carbs, 30% protein, and 30% dietary fat – which seems like a fairly standard approach to a healthy diet. Advertisements would have you believe that with Balance Bar, you will finally achieve better weight loss results than ever before due to its abilities to help sustain energy levels and manage hunger. Manufacturers would even have you believe that it has been used and recommended by professionals, experts, and athletes alike.
Yet is it really the most reliable way to get the protein you need to build bigger and stronger muscles?
About Balance Bar
A typical balance bar offers about 14 grams of protein which is divided into soy protein isolates, calcium caseinate, whey protein isolate, and partially hydrolyzed milk protein isolate. Although these proteins aren't bad in and of themselves, 14 grams is only about half of the amount found in typical protein powders, supplements, and bars.
Not only are you getting very little quality protein, but it also means that the rest of the calories found in Balance Bar are sugars, fats, preservatives, and fillers that shouldn't be there. On the other hand, Balance Bar does offer quite a few vitamins, minerals, and nutrients, which help to balance it out, but in the long run, you may end up gaining more fat than actual muscle if you're not careful with how you use these bars.
The Flavor
Balance bar is available in different forms and flavors, so no matter what your taste, they may well have a flavor that will work for you.
In the original formula, you have the option of picking from the following: almond brownie, chocolate craze, cookie dough, double chocolate brownie, honey peanut, mocha chip, peanut butter, and Yogurt Honey Peanut – all of which sound tasty and appetizing to say the least.
Several consumers have compared Balance Bar to other nutritional meal replacement bars, and there was no strange after taste, the texture is soft but hefty, and its sweet enough to satisfy your sweet tooth without overdoing it.
The Price
Because Balance Bar is so popular, it can be purchased in a wide variety of stores both online and off. The typical selling price ranges from $21-$30 for a box of 15, though you may be able to find it as low as $16 if you know where to look.
Conclusion
If we could judge balance bar on the flavor alone, then this product would be a winner for sure. Dieters can't get enough of the great taste and it definitely seems like a nutritious snack in between meals.
But as a protein supplement?
Probably not your best choice. The protein intake is minimal and the quality leaves a lot to be desired. You'd be better off investing in a high-quality whey protein powder than spending your money on a hyped up granola bar.