BADDASS Surge Review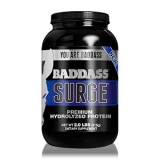 Building and sustaining new muscle mass requires an adequate supply of amino acids throughout the day.
BADDASS Surge is a high quality hydrolyzed whey protein isolate designed to quickly deliver amino acids to muscle cells.
With only 1.5 grams of carbohydrates, BADDASS surge fits into any nutrition plan. Each serving also provides 24 grams of protein and only 2.4 grams of fat
For best results, take 1-2 scoops BADDASS Surge after working out to stimulate protein synthesis and promote muscle growth.