Aro Black Series Whey Protein Isolate Review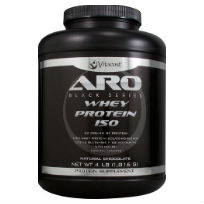 Top of the line taste, texture, and protein power – that is what the new VitaCost line Aro Black Series promises with its Whey Protein Isolate.
Aro Black Series Energy also promises 30 grams of protein in every serving with all natural ingredients.
What is in Aro Black Series Whey Protein Isolate and does it really taste great? I decided to find out.
Inside the Powder
As its name implies, Whey Protein Isolate features whey protein powder for building muscle and enhancing performance. But, there's more to this powder than just protein.
Whey Protein Isolate
Whey protein isolate is so filtered that it is safe for lactose intolerant users and contains 90-94% protein.[1]
Whey protein supplementation has been shown to increase skeletal muscle mass when taken prior to, or after a workout.
In a study done on 8 young men, researchers found a small dose of whey protein built more muscle, providing positive results overtime. [2]
Taurine
Despite taurine's popular use for boosting energy, taurine's effects are widely debated. While some believe taurine is harmful in large quantities, research shows no negative effects with doses up to 1000 mg, or 1 g. Aro Black Series Whey Protein Isolate contains 100 mg taurine, so it should be safe to use. [3]
In a study done on several rats, results showed taurine administration increased the physical endurance as well as time to exhaustion. Therefore researchers concluded taurine supplementation reduces exercise-induced muscle fatigue.[4]
Glutamine
Glutamine is a building block for protein. Although the body makes enough glutamine for regular needs, participating in heavy exercise depletes glutamine levels [5]
Athletes often take glutamine supplements to protect and enhance the immune system after working out. However, several studies say there is not enough research to suggest glutamine supplementation produces the results desired. More studies need to be done before glutamine can be determined an effective immunity booster. [6]
MCT Oils
MCT stands for medium-chain triglyceride. Medium-chain triglycerides are valued because they are easier to digest than other fats and seem to provide energy faster than other carbs. [7]
Research implies MCTs curb food cravings and burn excess calories, resulting in weight loss. However, experts believe further testing is needed to verify these results. [8]
Flavor Enhancers
Both the Natural Vanilla flavor and the Natural Chocolate flavor contain creamers. Included in those creamers are sunflower oil, inulin, monoglycerides, diglycerides, and sodium silicoaluminate which don't contribute to athletic performance but give Whey Protein Isolate its flavor and texture. Sucralose, an artificial sweetener, is also included in both flavors to sweeten taste.
The Natural Chocolate flavor contains Dutch process chocolate, which has a different color and milder taste compared to natural chocolate.
Is Aro Black Series Whey Protein Isolate Safe?
Most of the ingredients in Aro Black Series Whey Protein Isolate have not been intensely researched, so side effects are unknown.
However, whey protein isolate does have some reported side effects. Please note these are rare.
• Headaches/migraines
• Increased bowel movements
• Thirst
• Nausea
• Bloating/cramps
• Reduced appetite
• Fatigue
[9]
Flavors and Sizes
Aro Black Series Whey Protein Isolate comes in two flavors: Natural Chocolate and Natural Vanilla. Both flavors either come in a 2 lb. tub or a 4 lb. tub.
There are no reviews on the taste or effectiveness of Aro Black Series Whey Protein Isolate Natural Chocolate, but here is a review on the Natural Vanilla flavor.
"This protein powder is fantastic. It mixes very easily. I only shook it for about 30 seconds in my shaker cup and it was good to go! The taste is good as well. Tastes exactly like it should. I would recommend using a little more than 8 oz of water though because it was pretty thick. Great product, would highly recommend!"
[10]
Dosage
WebMD experts suggest taking 1.2-1.5 grams of whey protein isolate to improve athletic performance, but it's safe to take up to 84 grams when in a glutamine-enriched formula. [9]
Aro Black Series Whey Protein Isolate instructs you to take approximately 43 grams (2 scoops) with 8 oz. of water, so it should be safe to use regularly
Where to Buy Aro Black Series Whey Protein Isolate
Aro Black Series Whey Protein Isolate is an exclusive VitaCost product. It can be purchased on Vitacost.com. A 2 lb. tub is $25.99 and a 4 lb. tub is $49.99.
VitaCost has been in business for 19 years as a vitamin and supplement retailer. The Better Business Bureau has a few recorded complaints regarding their manufacturing dates and defective product. Make sure to watch for these after receiving an order.
Vitacost.com has a five-star guarantee that allows returns of one open tub and any unopened products if the customer is not satisfied.
Assessment
I eagerly await a review on the taste of Aro Black Series Whey Protein Isolate Natural Chocolate. I was impressed by the positive assessment of the Natural Vanilla flavor, so it's possible the taste is as great as VitaCost says.
The ingredients inside Aro Black Series Whey Protein Isolate appear to be safe without any likely side effects. While safe, the effectiveness of taurine, glutamine, and MCTs cannot be shown until further research is done.
Because Aro Black Series Whey Protein Isolate is so new it is hard to determine its effectiveness. However, it contains 90% protein, so it seems Whey Protein Isolate would be a good supplement for maintaining and protecting skeletal muscle mass just as well as any other whey protein isolate product.
References
[1] "Whey Protein Isolate vs. Whey Protein Concentrate Which Is Best to Build Muscle Fast." 2buildmusclefast.com. N.p., Apr. 2011. Web. 31 May 2013. .
[2] Tang, Jason E., Joshua J. Manolakos, Greg W. Kujbida, Paul J. Lyseeki, and Daniel R. Moore. "Minimal whey protein with carbohydrate stimulates muscle protein synthesis following resistance exercise in trained young men." Applied Physiology, Nutrition, and Metabolism 32.5. Web. 3 June 2013. .
[3] Stapleton, Philip P., Lean O'Flaherty, H P. Redmond, and David J. Hayes. "Review: Host Defense-A Role for the Amino Acid Taurine?" Journal of Parenteral and Enteral Nutrition . Web. 31 May 2013. .
[4] Yatabe, Yoshihisa, Shumpei Miyakawa, Hajime Ohmori, and Hajime Mishima. "Effects of Taurine Administration on Exercise."Advances in Experimental Medicine and Biology 643. Web. 3 June 2013. .
[5] "Glutamine." University of Maryland Medical Center. University of Maryland, n.d. Web. 30 May 2013. .
[6] Gleeson, Michael. "Dosing and Efficacy of Glutamine Supplementation in Human Exercise and Sport Training." The Journal of Nutrition (2008). Web. 3 June 2013. .
[7] ] Gallagher, Ethan. "Uses of MCT Oil." Livestrong.com. N.p., 27 Apr. 2010. Web. 31 May 2013. .
[8] T, Aoyama, Nosaka N, and Kasai M. ""Research on the nutritional characteristics of medium-chain fatty acids"." The Journal of Medical Investigation (2007). Web. 31 May 2013
[9] "Whey Protein." WebMD.com. WebMD, n.d. Web. 31 May 2013. .
[10] "Product Reviews." VitaCost.com. VitaCost, 23 May 2013. Web. 30 May 2013. .