ARO Black Series Whey Protein Complex Plus Review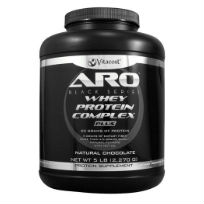 A new product line from Vitacost, Aro Black Series Whey Protein Complex Plus is a dietary supplement said to offer 3 benefits: energy for workouts, muscle mass maintenance, and recovery.
Additionally, Vitacost claims its product goes "far beyond crave-level drinkability to deliver the core nutrients active bodies need."
This sounds encouraging, but I find many other protein brands claim the same thing. I aim to discover if Whey Protein Complex Plus is really all it's set out to be.
Who is Vitacost?
A BBB accredited company, Vitacost is a dietary health supplement wholesaler. The company's headquarters are based out of Raton, Florida, but has since expanded to Las Vegas, Nevada.
How is VItacost's Customer Service?
On Vitacost.com, they claim award-winning customer service, so to investigate this claim, I searched for customer reviews.
"I am always satisfied with my purchase experience with Vitacost," says one satisfied customer. "I've never encountered any problems during the couple of years I've been buying from them." [1]
Another customer says, "I've been ordering from Vitacost for approx.. 1 year and their service has been outstanding on every order." [1]
"I was amazed that it came as quickly as it did. I t was packaged very carefully and nothing was dented or damaged," [1] one last customer mentions.
How do Returns Work?
Vitacost provides a Five-Star Guarantee: low prices, guarantee and service, quality products, security and privacy.
To return an item, contact the customer service department by emailing customersupport@vitacost.com or calling 1-800-381-0759 within 30 days of date of delivery. After being contacted, they send you a return authorization number with instructions.
They limit returns on opened packages by stating, "Only one opened package of any product is eligible for return. All others of the same product must be in a factory sealed container for refund."
Knowing Vitacost provides excellent customer service is reassuring. However, this doesn't guarantee Whey Protein Complex Plus is as amazing as advertised. To find out if it lives up to expectations, I looked closer at the ingredients.
Ingredients and Clinical Research
Main ingredients in Whey Protein Complex Plus include:
Whey Protein Concentrate is used for enhancing athletic performance, supplementing food, and as milk alternative for lactose intolerant people. [2] Clinical studies prove whey protein allows for "greater anti-oxidative and anti-inflammatory effects." [3]
Whey Protein Isolatecontains higher protein and biological value than whey protein concentrate. Whey protein isolate is said "to be good for both fat loss and muscle gain. Out of all the protein whey sources, isolate has the lowest amount of fat and lactose." [4] Whey protein isolate was clinically tested to provide faster rises in amino acids. [5]
Milk Protein Isolateis made from precipitated whey proteins and casein from skim milk and washed to remove impurities. Protein in milk protein isolate is greater than 85%. [6] Milk protein isolate also is proven to promote bone formation and maintain bone remodeling balance. [5]
Micellar Caseinis clinically shown to prevent oxidative breakdown in muscles. [7] Micellar Casein suppresses appetite, like whey protein. [8] Micellar casein forms globules that are released slowly over the course of hours. Micellar casein is recommended as a night-time protein, as the protein is able to dissolve while the user is sleeping.
Egg Albuminis another name for egg whites. Egg whites are useful protein sources and are proven to increase plasma protein and protein intake. [9]
Medium Chain Triglycerides (MCT)decrease body adipose as well as increases muscle mass. MCT's come from certain fatty acids treated like carbohydrates. Research proves MCTs eliminate body fat and also optimize energy efficiency. [10]
How To Get the Best Results
Whey Protein Complex Plus directs users to use daily as desired or as directed by a healthcare professional. Though, there tends to be some debate about optimal times to ingest protein. One opinion is eating protein in the morning, after your workout, and before bed are the best times to ingest protein.
Whey Protein Benefits and Side Effects
There are few reviews on Aro Black Series Whey Protein Complex Plus, but there are known benefits resulting from protein use: [11]
• Muscle recovery
• Restore muscle glycogen
• Muscle repair
• Enhanced athletic performance
There are also known side effects:
• Nausea
• Diarrhea
• Weight gain
• Bloating
Where To Purchase Whey Protein Complex Plus
You can purchase Whey Protein Complex Plus through either VItacost.com or Amazon.com. The prices and flavors vary upon size. They are as follows:
The 2 lb (908g) container comes in Chocolate, Vanilla, or Chocolate Peanut Butter and retails for $19.75.
The 5lb (2270g) container comes in Chocolate or Vanilla and retails for $45.99.
Is It Worth Trying?
Consider Aro Black Series Whey Protein Complex Plus a satisfactory competitor. The protein is affordable and the flavors come in a variety to fit different tastes. Although it is not the ideal supplement, do not count Whey Protein Complex Plus out when considering an effective protein.
References
[1] "Reseller Ratings." Availabe from: http://www.resellerratings.com/store/Vitacost
[2] "Whey Protein." Available from: http://www.webmd.com/vitamins-supplements/ingredientmono-833-WHEY%20PROTEIN.aspx?activeIngredientId=833&activeIngredientName=WHEY%20PROTEIN
[3] "Whey Protein." Available from: http://examine.com/supplements/Whey+Protein/
[4] "Whey Protein Isolate." Available from: http://www.muscleandstrength.com/store/category/protein/whey-protein/whey-protein-isolate.html
[5] "Wheyprotein.com." Available from: http://www.wheyprotein.com/recentstudies.html
[6] "Difference between Milk protein isolate and Micellar Casein." Available from: http://forum.bodybuilding.com/showthread.php?t=3774791&page=1
[7] "Why is Micellar Casein important?" Available from: http://idahomilkproducts.com/content/why-micellar-casein-important
[8] "Top 10 Ways to Deal with Hunger." Available from: http://www.webmd.com/diet/features/top-10-ways-to-deal-with-hunger
[9] González-Espinoza L, Gutiérrez-Chávez J, del Campo FM, Martínez-Ramírez HR, Cortés-Sanabria, Rojas-Campos E, Cueto-Manzano AM. "Randomized, open label, controlled clinical trial of oral administration of an egg albumin-based protein supplement to patients on continuous ambulatory peritoneal dialysis." Perit Dial Int. 2005 Mar-Apr;25(2):173-80. Available from:http://www.ncbi.nlm.nih.gov/pubmed/15796146
[10] St-Onge MP, Ross R, Parsons WD, Jones PJ. "Medium-chain triglycerides increase energy expenditure and decrease adiposity in overweight men." Obes Res. 2003 Mar;11 (3):395-402. Available from: http://www.ncbi.nlm.nih.gov/pubmed/12634436
[11] "Protein Shakes." Available from: http://www.webmd.com/diet/protein-shakes