ARO Black Series Glutamine Review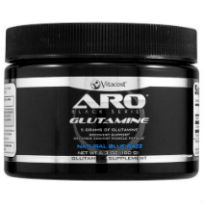 Vitacost.com's three-pronged ARO Black Series has three main workout goals: Attack, Recover, and Optimize. Coming from the Recover prong, ARO Black Series Glutamine is a natural glutamine powder aimed at reducing muscle fatigue after exercise.
Though it's not strictly a protein powder, ARO Black Series Glutamine contains only the amino acid glutamine. Let's see how well this glutamine powder builds and benefits muscle proteins.
Who Makes ARO Black Series Glutamine?
ARO Black Series Glutamine is manufactured and sold by Vitacost.com. In operation since 1994, this health product website aims to sell high quality natural products.
Vitacost.com's reputation is solidly backed by a Better Business Bureau accreditation. The BBB website reports over 250 complaints against Vitacost.com. However, that number is minimal considering it's a large business.
What's in ARO Black Series Glutamine?
ARO Black Series Glutamine's only ingredient is glutamine. Glutamine is an amino acid found in muscle and lung tissue. [1]
Most people make enough glutamine without needing to intake more from dietary sources. [1] Still, glutamine is often advertised as a great amino acid for building muscle.
Unfortunately, little evidence exists proving glutamine enhances muscle-building after a workout. One study testing two liquids (one with glutamine, one without) found glutamine didn't speed up protein synthesis at all. [2]
At best, glutamine levels appear to contribute to systems that regulate protein synthesis, but it may not have a direct impact on jumpstarting protein creation. [3]
But, supplemental glutamine is usually unnecessary in all but the highest-level endurance athletes. Moderate intensity workouts probably don't impact glutamine levels significantly. [1]
How Do You Take ARO Black Series Glutamine?
An ARO Black Series Glutamine serving is 1 scoop powder and 6 to 8 ounces water. Presumably, this mixture is intended to be consumed as soon as possible post workout. But, these directions aren't explicitly written on the label.
The product's nutrition facts say a serving holds 5 grams glutamine. But, 1 scoop holds 6 grams powder. It could be the additional gram is the natural flavorings and sweeteners. But, if so, that might be more flavorings and sweeteners than some dedicated exercisers like. This is a matter of personal preference.
How Much Does ARO Black Series Glutamine Cost?
ARO Black Series Glutamine sells for $14.99 on Vitacost.com. Each jug holds 30 servings.
Customers can choose from 2 flavor options:
• Natural Blue Razz
• Natural Fruit Punch
Can It Be Returned?
Vitacost.com has a 30-day return policy on all their products. Unsatisfied customers must return merchandise within 30 days of its arrival. By doing so, they get a refund on the purchase price. But, shipping costs are not refunded.
Vitacost.com's return policy seems fair and trustworthy. Unlike some supplement companies, Vitacost.com wants its customers to feel comfortable returning products they didn't like.
Is ARO Black Series Glutamine a Good Protein Powder?
Glutamine research doesn't indicate this amino acid has a major impact on post-workout recovery. Consequently, ARO Black Series Glutamine isn't an impressive protein powder.
However, its low price tag and Vitacost.com's return policy mean this is a safe product to buy and try. It just probably won't produce amazing results.
References
[1] "Glutamine." University of Maryland Medical Center, 2011.
[2] Wilkinson, SB, D Armstrong, and SM Phillips. "Addition of glutamine to essential amino acids and carbohydrate does not enhance anabolism in young human males following exercise." Applied Physiology, Nutrition, and Metabolism. 31.5 (2006): 518-29.
[3] Zhou, X, and JR Thompson. "Regulation of protein turnover by glutamine in heat-shocked skeletal myotubes." Biochimica et biophysica acta. 1357.2 (1997): 234-42.