Arnold Iron Mass Review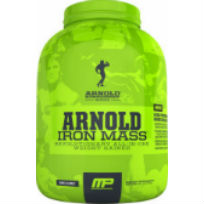 A soon-to-debut muscle weight gainer from MusclePharm, Arnold Iron Mass is purported to trigger "gains in hard, dense muscle mass & strength."
It accomplishes this by providing 40 g protein. Better still, it's gluten-free and low in sugar.
While this may sound appealing, you probably have some questions you want answered. Let's take a look at its price and ingredients.
How Much Does It Cost?
Since Arnold Iron Mass has yet to be released, the average price is not available. However, based on retailing in Australia, it may cost about $85.
MusclePharm boasts its products are sold at many brick-and-mortar stores, such as Dick's Sporting Goods, GNC, Vitamin Shoppe, and Vitamin World. It is also found in online venues like BodyBuilding.com, Amazon.com, and Vitacost.com.
TigerFitness.com appears to sell the product for about $50, plus $12.18 for shipping.
What Will You Be Consuming With Arnold Iron Mass?
Arnold Iron Mass is comprised of a 71.5 g proprietary blend, and some of its potent ingredients are discussed below.
Creatine Monohydrate. Creatine is involved in producing the energy needed by muscles to function. It is clinically proven to boost athletic performance, especially highly-intense exercise. A typical creatine dosage for loading is 20 g/d, though it may cause stomach pain, nausea, diarrhea, and muscle cramping. [1]
Sweet Potato Powder. Sweet potatoes are rich in vitamin A, vitamin C, calcium, and potassium, making them a viable source of nutrition.[2]
Branched-Chain Amino Acids (BCAAs). WebMD experts state BCAAs "stimulate the building of protein in muscle and possibly reduce muscle breakdown." A recommended dosage is 68-144 mg/kg/d. [3]
Barley Starch. Barley's fiber content lowers cholesterol, blood sugar, and insulin levels. Because it digests slowly, barley promotes satiety and suppresses appetite. A recommended dosage is 3-12 g. [4]
L-Glycine. An amino acid, glycine helps with transmitting chemical signals to the brain. It is effective for treating schizophrenia and leg ulcers. A recommended dosage for treating schizophrenia is 0.4-0.8 g/kg. [5]
Final Word
With creatine, BCAAs, and other beneficial ingredients, Arnold Iron Mass may be a reliable muscle gainer.
But, this product doesn't have consumer reviews to back these claims. Consider waiting for reviews after its release before you spending money on it.
References
[1] "Creatine." WebMD. Available from: http://www.webmd.com/vitamins-supplements/ingredientmono-873-CREATINE.aspx?activeIngredientId=873&activeIngredientName=CREATINE
[2] "5 Winter Superfoods: Sweet Potatoes: Nutrient Profile." WebMD. Available from: http://www.webmd.com/food-recipes/5-winter-superfoods-sweet-potatoes-nutrient-profile
[3] "Branched-Chain Amino Acids." WebMD. Available from: http://www.webmd.com/vitamins-supplements/ingredientmono-1005-BRANCHED-CHAIN%20AMINO%20ACIDS.aspx?activeIngredientId=1005&activeIngredientName=BRANCHED-CHAIN%20AMINO%20ACIDS
[4] "Barley." WebMD. Available from: http://www.webmd.com/vitamins-supplements/ingredientmono-799-BARLEY.aspx?activeIngredientId=799&activeIngredientName=BARLEY
[5] "Glycine." WebMD. Available from: http://www.webmd.com/vitamins-supplements/ingredientmono-1072-GLYCINE.aspx?activeIngredientId=1072&activeIngredientName=GLYCINE