Applied Nutraceuticals Lit-Up Review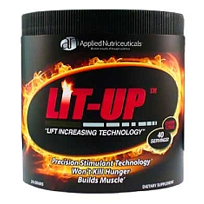 Many who look for post-workout supplements have specific tastes and needs. Applied Nutraceuticals Lit-Up uses different ingredients to give a wholly improved workout. In addition to helping build muscle and recover after a workout, Applied Nutraceuticals Lit-Up advertises more mental alertness and improved energy.
Applied Nutraceuticals Lit-Up does have a few different ingredients, but these ingredients help with the different functions it performs. However, fewer ingredients means a lower price.
Ingredients and What They Do
Applied Nutraceuticals Lit-Up has a few different types of ingredients. The majority of the ingredient list consists of Vitamins. Applied Nutraceuticals Lit-Up uses Vitamins B1, K2, B12, and D3 to help with increasing muscle tone, increasing the rate of metabolism, and provide other health benefits as well.
Other ingredients that can be found in Applied Nutraceuticals Lit-Up include Copper Citrate, Folic Acid, Chromium Picolinate, Biotin, and Pantothenic Acid. This supplement uses these ingredients to help rebuild muscle and increase the amount of lean muscle mass. These ingredients are then combined with natural caffeine to help boost energy and regulate stimulation.
Benefits of Lit-Up
The ingredients used in Applied Nutraceuticals Lit-Up differ from other types of supplements. The combinations have been clinically proven to enhance workout results without killing hunger or promoting over stimulation in many individuals.
Because of the types of ingredients, Lit-Up is more affordable than other types of protein supplements. Of course, with lower price often comes lower quality, so we recommend seeing how the product affects you before investing too much in it.
Drawbacks of Lit-Up
Many who have tried Lit-Up said that it did give them a little jolt, but not anything that was really comparable to other types of supplements. Lit-Up advertises that, by using caffeine, they are avoiding more harsh reactions. However, not everyone reacts to caffeine the same way, so Lit-Up may have the same types of effects as stimulants in other protein supplements.
Lit-Up's shorter ingredient list only includes one amino acid, which does not work as well in creating healthy muscle recovery as many amino acids would. By using only one amino acid, Lit-Up may actually not be much help in speeding the gain of muscle mass. However, because it is a lower price, this list of ingredients appears in many similar priced supplements.
Recommendations
Applied Nutraceuticals Lit-Up does provide some benefits for those that try to restore certain nutrients after a workout. It does help to increase muscle mass, but works slowly due to the small amounts of amino acids in the ingredients.
Another aspect to consider is that, since the energy boost is given with caffeine, those that are unused to caffeine's effects may still be overstimulated. However, Lit-Up is still among the lower priced and affordable types of protein supplements. Based on these factors, we would recommend Lit-Up if you are looking more at price than at ingredients. We would, on the other hand, not recommend it if you are looking for rapid muscle gain, are not used to the effects of caffeine, or are not too concerned about pricing.