Anabolic Halo Review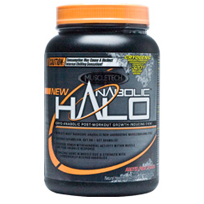 Giving you chilling gains and cryo-anabolic post workout growth promoting gains, Anabolic Halo' manufacturers advertise that it will help you to get the ultimate muscle build you've been looking for.
They also advertise that Anabolic Halo has all of the right ingredients, the right amounts, and everything else.
With Anabolic Halo, you will be able to naturally increase your anabolic muscle mass, multiplying it and easily getting all of the better benefits that you are looking for.
With Anabolic Halo, you will get a mega dose of the best muscle manipulating compound on the market. However, we were skeptical as to whether Anabolic Halo actually works.
About Anabolic Halo
Anabolic Halo has some powerful amino acids. This product makes ample use of amino acids. These help to build and feed muscles, especially when you combine them with BCAA's. BCAA's help you to effectively improve your athletic performance in general. For that reason, we were glad to see that Anabolic Halo includes BCAA's in its formula.
However, for any of these ingredients to work, they much be in the right dosage. Unfortunately, Anabolic Halo does not have the right amounts or dosages of amino acids or BCAA's to be really effective.
Though the manufacturers have added other ingredients, including the muscle building Creatine, we felt that they would not be as beneficial as they could be because of the inadequate doses of the BCAA's and amino acids.
Creatine may not need to be added in high dosages because it is naturally created in the body, but neither do most amino acids. For that reason, getting less of them may not be a bad thing. Anabolic Halo has them listed in a proprietary blend, though, so it is nearly impossible to tell whether they would be in a helpful dosage or not.
How to Use It
Anabolic Halo's manufacturers recommend consuming 1 serving (1 level scoop) mixed in 4 oz. of cold water. They then suggest to increase to 3 servings (3 scoops) mixed in 12 oz. of cold water and consume after your daily workouts.
They also suggest not to exceed 3 servings in a 24-hour period and to drink about 10 glasses of water daily.
Consumer Reviews
The consumer reviews we found were pretty mixed. Some thought that Anabolic Halo was the best product they had tried, while others could not see any results and thought that the taste was less than desirable.
Some found that they had too much energy and could not calm down for an entire day. Though this was a benefit for some, others found that they could not sleep or concentrate on anything and were too stimulated for comfort.
Conclusion
Based on the ingredients, dosages, and reviews, we think that this supplement could be better. Though it is similarly priced as other supplements, we found it for around $40, it may not be as effective as others of the same caliber.
Though nearly all the ingredients used are great for helping to build muscle, the proprietary blend may not add enough of each of the essential nutrients to help overall. There are protein powders with worse combinations of supplements, but we would suggest looking for supplements with more clearly listed ingredients and consistent effectiveness.