Amplified Wheybolic Extreme 60 Review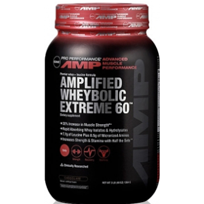 Try walking into GNC and asking for a protein powder, almost without fail whoever is working there will try to convince you nothing works better than Amplified Wheybolic Extreme.
I don't blame them, after all, it is GNC's signature protein powder and the clerk is working for GNC. But is it really the best you can get, or should you ask for something else?
Because it comes from GNC, there are high expectations of AMP Amplified Wheybolic Extreme 60 and we know GNC isn't in the business of letting people down with there supplements. So will Wheybolic be as powerful and cost-effective as leading products like Myotein? Let's take a look.
The Formula
As the name suggests, this product contains a whopping 60 grams of protein per serving! That's a serious amount of protein and if you take 3 scoops at a time you'll see this is made more for people looking to gain mass more than people who want a protein supplement for weight loss. If you don't want that much protein, you can always cut back on the amount you use.
In addition to the protein, AMP Amplified Wheybolic Extreme 60 comes with amino acids like L-Arginine, L-Leucine and L-Glutamine. These ingredients are known for increasing nitric oxide levels, improving focus and performance, speeding up recovery and preventing catabolism.
Glutamine and Arginine are combined in a blend totaling 8.5 grams, and Leucine comes in 7.7 grams. Combine that with 60 grams of protein and you're looking at one of the most potent, protein-packed supplements available.
Will It Be Effective?
Protein really is protein, so this is definitely going to be able to help you see the benefits of taking whey protein, but different forms of protein can provide additional benefits. This would be good to stack with a casein protein mix to ensure you have lasting digestion too.
AMP Amplified Wheybolic Extreme 60 seems to be made on the idea that more protein is better. This may not be entirely true. Your body can only handle so much protein at one time and some people say 60 grams of protein is fine but would be better if it was consumed at different times of the day.
With the majority of the protein from Whey Protein Isolate, the body will absorb what it can pretty quickly. You just need to balance and see how much you really need. Not everyone needs 60 g of protein.
How does Amplified Wheybolic Extreme 60 taste?
The dumps of clumpy mixes and choking down nasty protein mixes are pretty much gone. Taste and mixability aren't the most important things when it comes to deciding on a protein powder, but they remain important if you're going to be using something pretty much everyday.
This actually does taste good, it's even OK in water, but better in milk. The banana flavor is one of the best and cookies and cream is good too. If you like the chocolate or vanilla, you won't be disappointed either.
What Do Users Say?
On average, AMP Amplified Wheybolic Extreme 60 gets ratings of 4.3 stars out of 5. Most users like the taste and how easy it is to mix. They said it is effective and shortens recovery time. When this product is combined with regular workouts, results usually come within the first 3 weeks.
However, a large number of users said AMP Amplified Wheybolic Extreme 60 was too pricey and a poor value. Right now you'll pay almost $80 for a 3 lb tub. GNC does offer some specials at times, but this is one of the more expensive protein powders out there (perhaps another reason you'll be told to get in in any GNC store).
How to Get Best Results
AMP Amplified Wheybolic Extreme 60 can be used to enhance workouts and recovery, or as a meal replacement. If you're using it for your workouts, users say its best to take AMP Amplified Wheybolic Extreme 60 after the workout. I recommend taking 1 or 2 scoops a day, instead of the suggested 3. This way, your body will get a dose of protein it can handle and utilize better.
Buying & Returning
Like I mentioned earlier, a 3 lb. container (51 scoops) of AMP Amplified Wheybolic Extreme 60 costs around $75. Or you can buy it in packages of 1.22 lbs. for the price of about $35. Unfortunately, most retailers, including GNC, will not issue a refund once the container or package has been opened.
Conclusion
AMP Amplified Wheybolic Extreme 60 is another protein powder that you'll see results from but it's kind of up to you if you want to deal with the price. It has high-quality ingredients and powerful doses. But there are plenty of other products that could give you the same results for less cost. For example, a container of Myotein holds about 3 pounds and costs $59.96. It's also the leading protein powder on the market. To learn more about Myotein click here.
If you've tried AMP Amplified Wheybolic Extreme 60, please share your comments here! Did you like it? Would you recommend it?