American Whey Protein Review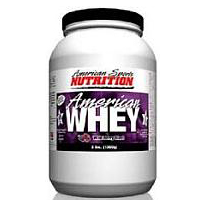 Coming from American Sports Nutrition, their American Whey Protein is meant to finally give you the high quality, increased bioavailability, and otherwise that you are looking for.
With American Whey Protein, you will supposedly finally get a great natural source of amino acids, essential BCAA's for greater physical performance, and more protein than your body might necessarily know what to do with. Additionally, American Whey Protein offers a formula that easily mixes into water or other drinks, so you can work it into your current diet regimen at your convenience.
On the other hand, I've seen thousands of protein powders, shakes, and supplements, so what makes American Whey Protein any different from all the others still sitting on the shelves? Let's take a closer look at what it can really do to see if the pros outweigh the cons.
The Good
In addition to a healthy dose of whey protein (which is critical for any bodybuilding regimen), American Whey Protein has some good proteins and amino acids including branch chain amino acids, that can help you to effectively speaking achieve certain benefits. With these ingredients, you could ideally speaking feed and build muscles for greater results. A few of them can be found below:
L-Arginine: L-arginine is a unique amino acid that can convert directly into nitric oxide in the blood stream. Studies have shown that increased levels of nitric oxide can relax blood vessels and temporarily improve blood flow and circulation, so you can give your muscles a constant rush of nutrients when you need it the most. Additionally, L-arginine may be essential for the production of HGH, a natural hormone that can encourage muscle growth and healthy metabolic activity.
L-Leucine: L-Leucine is one of three branched chain amino acids that are known for their abilities to keep blood sugar levels in check, which in turn reduces your cravings for carbs. It is typically combined with isoleucine and valine in order to provide the best results possible, and when used correctly, L-Leucine can provide fuel to the muscles for a significant increase in energy and endurance.
L-Tyrosine: L-tyrosine acts a precursor to numerous neurotransmitter sin the body, particularly dopamine, epinephrine, and norepinephrine. Recent studies suggest that L-tyrosine may be able to reduce stress and fight off depression as well.
Additionally, American Whey Protein is even available in different flavors: vanilla, banana, peach, wild berry, orange, and chocolate.
The Bad
Although American Whey Protein has some great ingredients, this formula does not actually have the right amounts of any of these ingredients. Instead, they offer a mere 20g of whey protein.
Now this seems like a small difference when you consider you need at least 24g. However, 4g is quite a big deal, and it can make a substantial difference when it comes right down to it.
The Skinny
If you're looking to add on a few pounds of muscle when you're workout out, then adding a whey protein to your current health regimen is a great step toward reaching that goal. American Whey protein is not a bad product on its own, and it doesn't overdo it on the sodium like so many other protein supplements. It can be bought in bulk from multiple online websites for a fairly affordable price, and consumer feedback is fairly positive.
However, American Whey Protein's formula is definitely not one of the top products I've ever seen. If you're going to invest in a muscle-building supplement, then I suggest finding a protein powder that contains as much protein as possible without overdoing it on the carbs or calories.