Almased Synergy Diet Review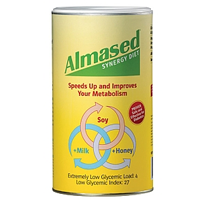 With Almased Synergy Diet, the manufacturers promise that you will finally see amazing fat burning benefits and change the way your body works.
Though this diet takes a different approach to building lean body mass than products like Myotein, it still asserts that it provides the best results possible.
The manufacturers mention that this diet will help to increase your ability to burn fat while you build muscle, which is desirable for those that are looking to get perfectly toned and cut.
With Almased Synergy Diet, you will finally be able to naturally increase your metabolism while also building more lean muscle mass! Almased Synergy Diet is a strong formula meant to transform your body with a great tasting drink mix.
But does Almased Synergy Diet actually work? Does Almased Synergy Diet actually have what it takes to come through on all of their promises?
About Almased Synergy Diet
With protein, you can ideally get better results. You can feed your muscles and give something for amino acids to work with. Of course, the types of amino acids used in supplements will have a major impact on how well protein is absorbed and whether it will create more muscle.
You will only really find the best amino acids in higher quality proteins.
However, Almased Synergy Diet does not actually have the high quality proteins that you are looking for, and it does not have the essential amounts you need for success.
Though it is all-natural, which is something that other protein supplements cannot say, Almased Synergy Diet the mixture of soy protein, honey enzymes, and skim milk yogurt powder that make up the formula will not provide the best benefits possible.
Ingredients like these do provide a better step toward overall health, but are not really known for their ability to effectively help you build muscle.
Consumer Reviews
There were a lot of mixed reviews about this product. Though many mentioned that it did not taste really pleasant and had a very gritty texture, they also said that they felt healthier and better overall.
However, many mentioned how much this product helped them to lose weight, not necessarily build muscle. Those that are looking for protein powders and ways to build up muscle may find that they are disappointed with this product.
Conclusion
Based on these criteria, it seems that the Almased Synergy Diet is not going to be effective. Though the ingredients are well worth looking into if you are interested in overall health, they will not provide the best types of protein or the greatest amino acids.
In addition, taste is a big factor for many who wish to use products. Since this product seems to have a gritty texture and less than pleasant taste, some may be tempted to look elsewhere based on that alone.
If you are looking for a product that is both effective and tasty, you may consider looking into Myotein because it offers so many good qualities. Though it may not be for everyone, it is likely to be better for you than Almased Synergy Diet.