100% Soy Protein Booster Review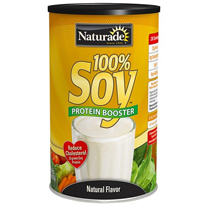 When most people think of a protein supplement, they think of a product that is loaded with all the essential nutrients that a body needs to boost its anabolic growth potential – amino acids, proteins and carbs.
But in this day and age, companies are starting to "think outside the box" when it comes to their creations.
Take the product, 100% Soy Protein Booster for example. This all-natural, soy-based protein supplement is designed to primarily help people lose weight. On the side, it also contains 25 grams of soy protein isolate to help users gain muscle.
In this review, we'll take a look at how 100% Soy Protein Booster does with this balancing act. Can this product pull off the feat of serving two masters, or is the idea behind its invention too good to be true?
Two Birds With One Stone
Interestingly enough, if you want to see an example of how 100% Soy Protein Booster is able to serve as a weight-loss and muscle-gaining supplement at the same time, look no further than the 25 grams of soy protein isolate it contains.
You see, soy protein isolate is considered a slow-absorbing protein. In this sense, it acts as an appetite suppressant while being slowly-digested in the stomach. Further, this allows individuals to use 100% Soy Protein Booster as a way to kick their cravings and to reduce their caloric, fat and cholesterol intake.
Along those lines, 100% Soy Protein Booster also contains 110 calories, which is just enough to give someone the energy they need to workout at the gym. On the flip side, this caloric count is also not going to become detrimental to an individual if they don't use it properly.
Its Uniqueness
Now then, how can you expect 100% Soy Protein Booster to be different than your average protein booster?
First of all, it CAN act as a meal replacement. Again, this is meant to help overweight people who struggle to eat healthy. Second, you won't find a huge amino acid or carb count associated with 100% Soy Protein Booster's blend.
Instead, you'll find a blend that is devoid of any carbs and cholesterol, and low in fat and sodium. Yet again, this non-powerful, yet healthy blend is catered towards helping the average Joe reverse their nutritional misfortunes.
Its Price Tag
Lastly, its also important to find a product that is affordable as well.
In terms of the 100% Soy Protein Booster, you can either purchase a 14.8 oz can for $18.75 which includes 14 servings, or a 29.6 oz can for $33.75 which includes 28 servings.
By doing some simple math, you'll notice that the 29.6 oz can is a better deal. But either way, you're not going to be spending an absurd amount on this product.
Final Thought
In conclusion, whether you're looking for any help you can get in losing weight, or just trying to boost your protein intake to gain a few extra pounds of lean muscle, the 100% Soy Protein Booster is a capable helpmeet.
As such, we'd recommend its use – you can't go wrong by giving this product a try.